I really really REALLY love the owner, Bonnie of the LYS that is close to where I work. She is so awesome and never makes me feel that I'm inconveniencing her or asking too many questions.
She helped me this afternoon pick out yarn for the brothers snake scarves. Instead of trying to sell me some way way expensive designer wool she assisted me in finding some that was moderately priced for what I was needing.
This is what I got today: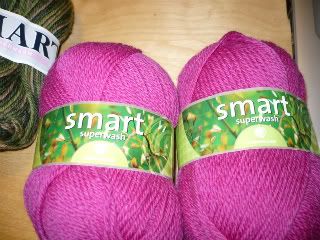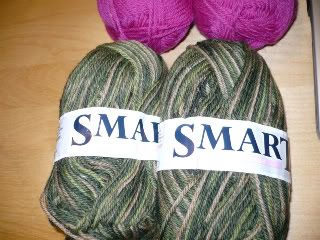 The Pink is for the younger brothers; its his favorite colour; his mom ok'd it and the green stripey stuff is for his older brother whose favorite colour is D'oh! green..lol I'm casting on for one of them tonight after I get booted off the laptop by D or when I get
neat_and_pretty
online for a chat:)
Oh she also helped me pick out yarn for my poncho and has it on hold. She was going to let me take home a few balls of it today and pay her later but I didnt want to take advantage of her nice-ness. I like it when people are nice to me but it doesnt happen often so it feels a bit strange to me.
The boys were also really good today though the last 1/2 hour I had to tell them spooky stories on the fly (no books) and then they didn't want me to leave..LOL its nice to be wanted:)